Huuuurrrraaaa!!!!!
Wir können voller Stolz verkünden dass wir in unserem Zwinger die ersten Babies nach Vino erwarten.
Toma ist tragend und wir erwarten ihren Wurf Ende November/Anfang Dezember!!!!! Wie sind sooooo gespannt auf die Kleinen und können es kaum erwarten.
Hoooorrraayyyy!!!!!
We are proud to announce that we expect in our kennel the first babies after Vino. Toma is expecting puppies and the little ones will be born at the end ov nocember/beginning of december!!!!! We are so excited and can`t wait to seee them.
Luxemburg CH
Schweizer Babyjubiläumsclubsiegerin`19
Internationaler JCH/Belgischer JCH

mit
Honiland Tomboy Blue Treasure "Toma"
blau Kurzhaar, HD-C, ED-0
Long Feng Max Rockatansky "Vino"
rot, HD-A, ED-0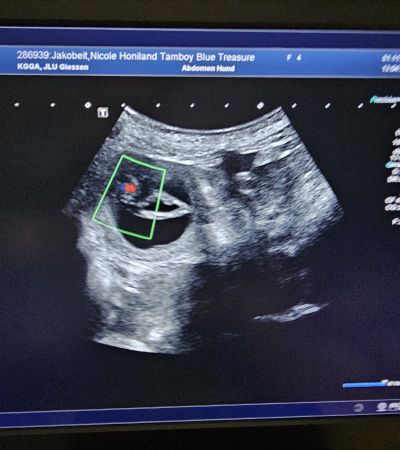 In diesem Wurf können Welpen in rot, schwarz und event. blau Lang- und Kurzhaar fallen.
Beide Elterntiere haben einen sehr liebevollen Charakter. Wir erhoffen und aus dieser Verpaarung Welpen ohne Übertypisierung, von einem mittleren, gesunden Typ.
Wenn Sie sich für einen Welpen aus dieser Verpaarung interessieren nehmen Sie bitte frühzeitig Kontakt zu uns auf, aber beachten Sie bitte unsere Philosophie der Zucht.
In this litter we can expect puppies in red, black and maybe blue in smooth & rough.
We hope for puppies with an open and friendly character, as both parents have. We also hope for puppies without any overdones with a moderate, healthy type.
If you are interested in a puppy out of this combination, please go in contact by time and respect our philosophie of breeding!!!
Beachten Sie bitte auch unsere Philosophie der Zucht/please respect our philosophie of breeding